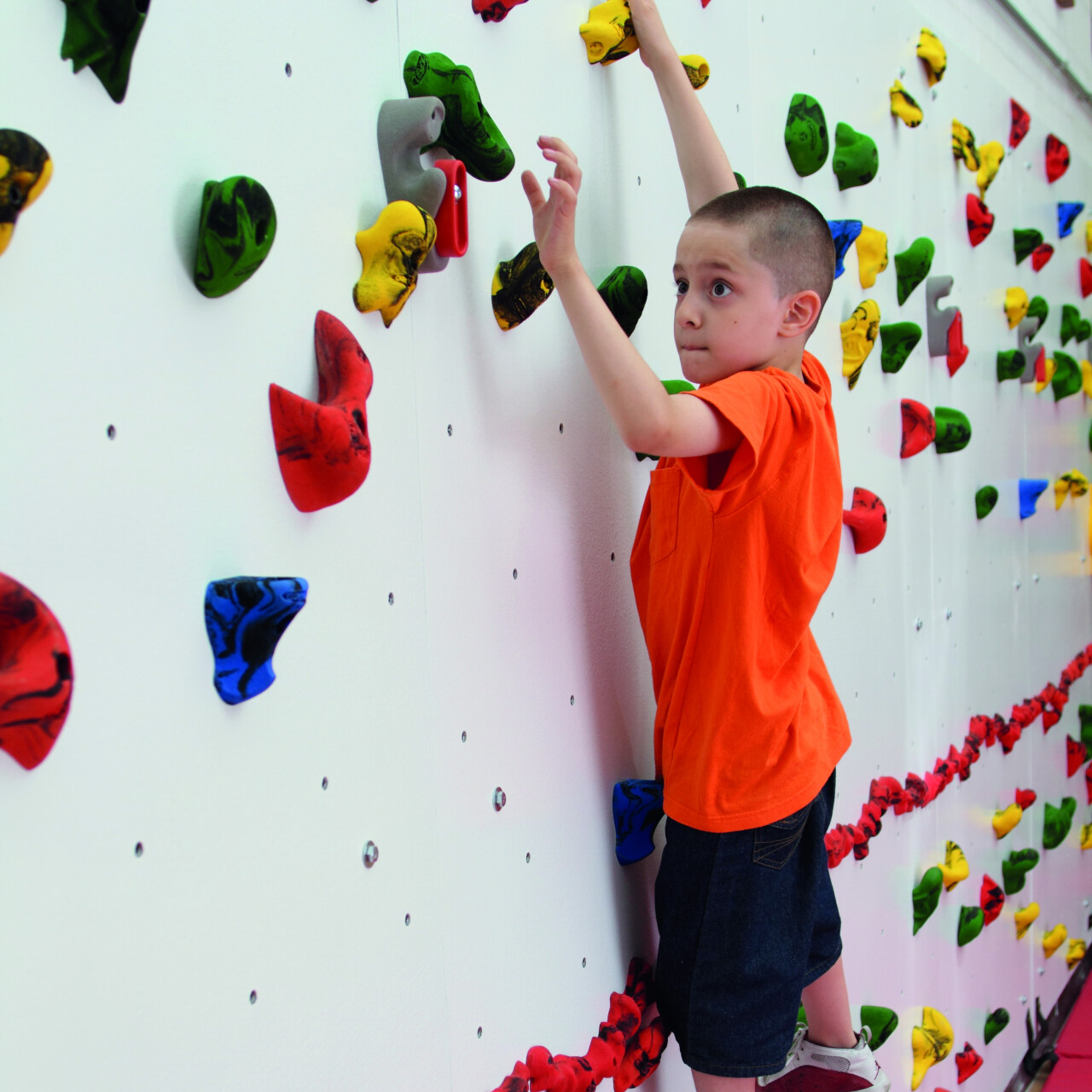 Adaptive Climbing Wall - 20'
OUR REF #: 9ACW3
Make rocking climbing more accessible with the Adaptive Traverse Climbing Wall! It's the ideal climbing wall for adapted or inclusive physical education, occupational therapy and physical therapy and provides opportunities to develop balance, body awareness, muscle strength, motor planning and more. Climbing also provides proprioceptive input to improve sensory integration. The Adaptive Traverse Climbing Wall is also well suited for special education classes where learning and movement can be integrated and problem solving, visual attention and concentration are required. Each 20' x 8' Adaptive Wall section includes sentence building, word and math magnets, Adaptive Climbing Holds, Groperz Hand Holds, 66 preset placement options for mounting hand holds, the Red-Relief Line, Adaptive Climbing Activity Guide and dry-erase markers. A 20' wall would be 20 adaptive hand holds, 10 adaptive foot holds, and 100 route setting holds. One climber per 4' section. Package includes 2" floor mats that convert into a locking system when not in use. *THIS ITEM WILL DROP SHIP FROM THE MANUFACTURER SO PLEASE ALLOW AROUND 4 WEEKS FOR DELIVERY.* IMPORTANT: You will need to meet the truck, break down the crate, and carry each piece of the climbing wall inside. This can take as little as 25 minutes with a group of 4 – 6 people. Lift gate is not available on any orders. If unloading is not an option for you, Inside Delivery is available. Please let us know if you want to add this to your order. Please inspect all pallets and boxes before signing for the delivery. If there is any damage, you MUST note the damage on the delivery receipt BEFORE you sign it, or a damage claim cannot be filed with the trucking company. This is very important – please notify your receiving personnel and the person who usually signs for deliveries of this fact. Call us if there is any apparent damage and we will work with you to resolve the problem. Do not throw away any damaged material. Please protect your shipment until the installation takes place. Any damage occurring after receipt is your responsibility.
Additional Information
Dimensions: L: 20' x H: 8'
Additional Shipping Information: Truck Shipment.