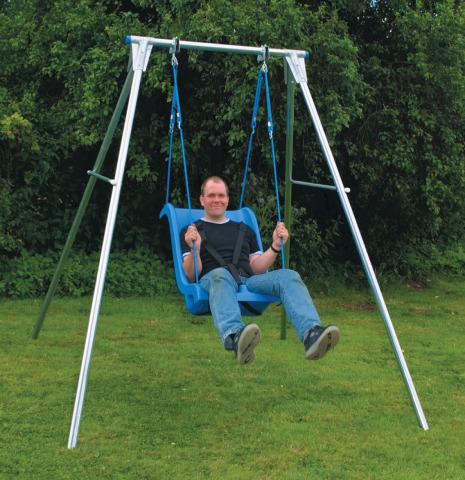 Single Galvanized Steel Swing Frame (Frame only)
OUR REF #: 8TSFS
Very high quality swing frame. Made from galvanized steel, which does not rust. Our Swing Frames are made from thick (2") tubes and so are very strong, but also light and pleasant to touch, making assembly very easy. Our Swing frames are very stable and strong, the treble swing frame can swing (400kg) spread across its length.  The Single Swing Frame comes with hooked stakes to pin the frame to the ground and 1 pair of suspension brackets. Measuring 226cm wide our Single Swing Frame can swing all our large swings such as the Nest Swing. The Single Swing Frame is the only frame recommended for our Wheelchair Platform swing or for our Adult Swing seat. Overall Dimensions - 226cm wide, 244cm deep, and 228cm tall, our swing frames are among the tallest available. Swing Seats are sold separately.
£169.00
£140.83 (exc. VAT)
VAT relief available on this product.
Additional Information
Dimensions: H: 228 x W: 226 x D: 245cm
Power: 150kg max
Related Products
49 Reviews
Good solid frame and easy to put together
Best buy ever great value very sturdy and well made. Easy to put together needs 2 people to build but straight forward. Would highly recommend as made my daughter so happy to finally find a swing frame that takes adult weight
Melanie M.
Verified Buyer.
Excellent product. Was easily assembled by two people. Very sturdy and strong. Looks great in the garden, well worth the money.
Great quality item and also very good delivery, was better than I expected it to be
Frances L.
Verified Buyer.
This is a very strong sturdy frame and also very large. It's definitely worth spending some extra money on this rather than a cheaper alternative if you have the means to do so. I'm a little more sceptical about the seat I've bought but time will tell
Flawless service and very happy with the swing and seat.
Perfect for my girls highly recommend this item.
I had a problem with my delivery and it was fixed right away. Great service. T
Isabelle M.
Verified Buyer.
Fantastic, our daughter loves her swing.
Excellent quality. Great for my adult daughter. Easy to install. Excellent customer service. Top quality galvanised steel.
Brilliant. Great value for money. A great company to order from. Great customer service
This company is great. They are extremely knowledgeable of their products and are pro customer satisfaction!!
Margaret D.
Verified Buyer.
I bought the special needs swing a few weeks ago it was the best item I have bought it's sturdy and well worth the money I was treated lovely when I rang up to enquire about it and I would rate it 10/10
Great product just what we needed With quick friendly service