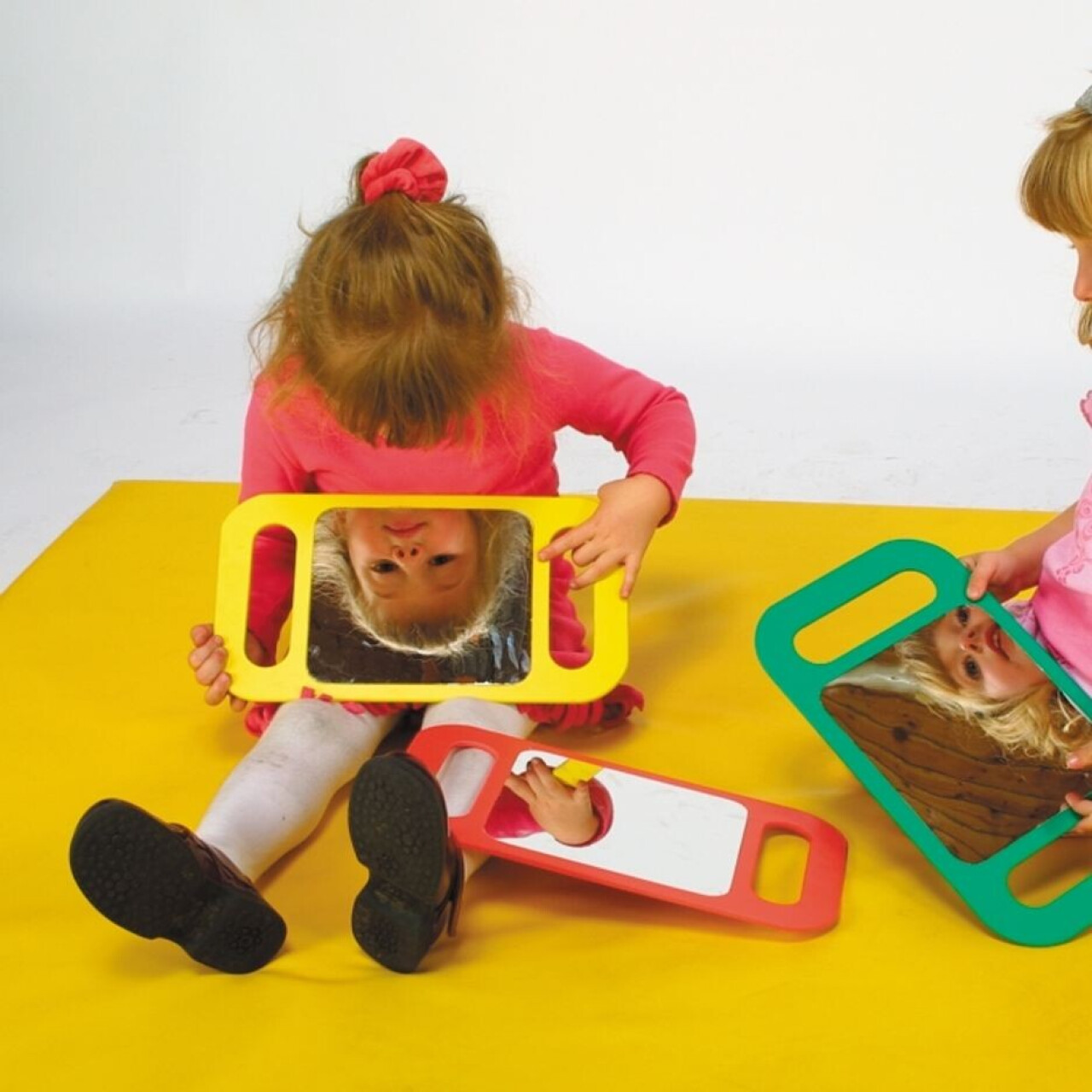 Mirror with Handles
Not currently available to order.
The Leybourne Wooden Frame Mirror is a durable safety mirror set in a sturdy wooden frame with handles for easy holding and viewing. Great for small hands or individuals with impaired motor skills, these mirrors are shatterproof and extra safe. The Leybourne Wooden Frame Mirror is a great way to provide visual reinforcement and help children develop visual tracking skills.

Single is a robust wood frame with a safety acrylic mirror on one side. Safe and easy to handle. 13" Wide x 7" High



Not currently available to order.
The Leybourne Wooden Frame Mirror is a durable safety mirror set in a sturdy wooden frame with handles for easy holding and viewing. Great for small hands or individuals with impaired motor skills, these mirrors are shatterproof and extra safe. The Leybourne Wooden Frame Mirror is a great way to provide visual reinforcement and help children develop visual tracking skills.

Single is a robust wood frame with a safety acrylic mirror on one side. Safe and easy to handle. 13" Wide x 7" High



Related Products
8 Reviews
Christabel R.
Verified Buyer.
Reviewed on 20/01/21
Feature Highlighted
Benefit Highlighted
The mirror was smaller and not as solid as I imagined, but my grandson loves it, and spends hours playing with it. It's very easy to hold and handle. So although expensive for what it is, it's more than worth its money in the enjoyment it's giving.
Sorry had to return item as not suitable for Amir's needs.
The person it was bought for appears to really like the mirror. Very pleased
Christine D.
Verified Buyer.
Excellent - just what I was looking for
I bought this for our son who has severe learning difficulties, GDD and other needs, to try and teach him about the various parts of his face and just to look at himself, see who he is. This mirror is perfect for this, good size, easy to hold. Only gripe is it feels cheap, the wood seems quite flimsy.
Logan absolutely loves it
Stephanie T.
Verified Buyer.
This itam is very good my son loves making funny faces in it which is good for his autism.
Veronica C.
Verified Buyer.
Brilliant. I bought one about 9 years ago and its still going strong. As a childminder I thought this might be a good item to add to my toy room collection and it has been played and played with by a lot of children of all ages. My daughter recently had a baby and requested one for his Christmas present, hence the new one purchased.