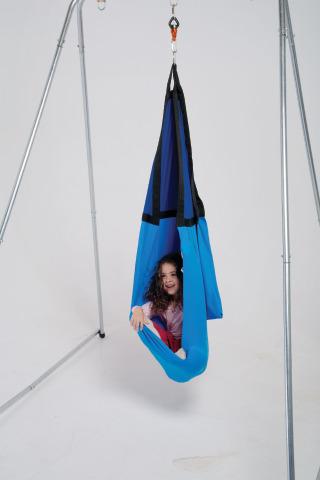 Swing, Dual Sided Sling
OUR REF #: 8EMST
The elasticity or give of the soft four-way stretch fabric provides full and even support to the entire body, providing compression and deep stimulation of the body. Designed to promote spatial and physical awareness while providing opportunities for integration of the vestibular and proprioceptive senses. Made of heavy weight cotton and lycra fabrics. Indoor use suggested or do not leave outside in bad weather. Weight limit: 200 lbs.

Attachment hardware recommended: Safety Snap Swing Clip (3CLIP). For rotational movement, we recommend our Swivel (8SWVL). Shown here on the Easy Up Portable Swing Frame (8TLFS) for higher suspension and more robust activities we suggest the Mighty Swing Frame Line.

SEAT: LENGTH - 104 cm WIDTH - 56 cm Max 90kg Price is for the Sling Swing only. All hanging hardware must be purchased separately based on your installation needs. Swing frame is also sold separately.
Related Products