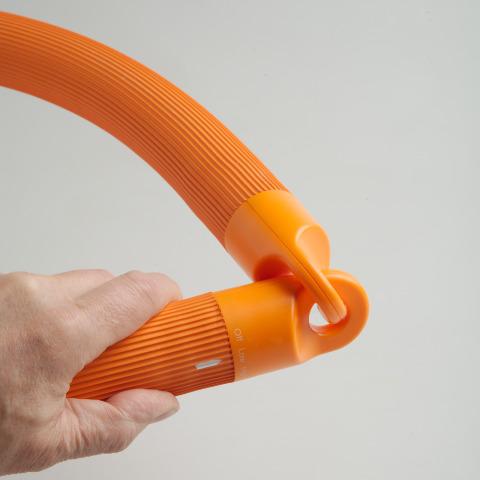 Vibrating Snake
OUR REF #: 3STVS
Very popular battery-operated flexible vibrating snake. Allows the user to move the vibration behind their back. The gentle vibrations are quite soothing. ~ Flexible and easily wrapped around an arm or leg. ~ 2 speeds for you to choose. ~ Also available in smooth blue (3STVSB) Add a Vibrating Snake Cover to give another tactile dimension to your therapy session. Vibrating Snake Cover (3SKCVG). NOTE: Due to recent changes in the size of Duracell batteries, please do not use them in your Vibrating Snake. Other brands are compatible.
Additional Information
Dimensions: L: 49" x W: 1.5" x H: 1.5"
Power: Requires 2 x C Batteries, not included
Related Products
56 Reviews
My little boy has ASD and he loves this. It really helps him calm down.
Excellent item. Quick delivery.
Quite loud and really strong vibrations.
Just as described and expected. Replacement for much loved toy
Maureen M.
Verified Buyer.
09/08/14
My daughter loves it. Very quick on delivery
I bought this for my 4 year old grandson, it was a great hit. The reason that I didn't give it 5 stars is that it is very heavy on the battery use. Also a little fiddly to get the thing going. I do recommend it to others though.
Once we had placed the batteries in the toy it took a bit of sorting out were to twist the toy to get it to vibrate, but once it was working ot helped my son by helping his mood swings he suffers from, he really enjoyed the toy and would reccomend it to other parents.
A good calming device for my little one. The straited body is a tactile sensory relieve as well. Good product.
Great price for a sensory toy, son loves it
Choudhry S.
Verified Buyer.
03/11/13
Good
Absolutely fantastic aide for calming my 4 year old Autistic son down after a meltdown. Very calming and relaxing effect all round and it pretty much goes everywhere with him.