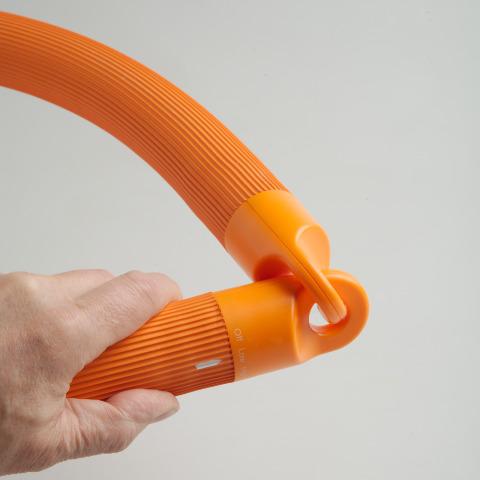 Vibrating Snake
OUR REF #: 3STVS
Very popular battery-operated flexible vibrating snake. Allows the user to move the vibration behind their back. The gentle vibrations are quite soothing. ~ Flexible and easily wrapped around an arm or leg. ~ 2 speeds for you to choose. ~ Also available in smooth blue (3STVSB) Add a Vibrating Snake Cover to give another tactile dimension to your therapy session. Vibrating Snake Cover (3SKCVG). NOTE: Due to recent changes in the size of Duracell batteries, please do not use them in your Vibrating Snake. Other brands are compatible.
Additional Information
Dimensions: L: 49" x W: 1.5" x H: 1.5"
Power: Requires 2 x C Batteries, not included
Related Products
56 Reviews
Great sensory toy. My autistic son loves it and helps him to calm down. Is a little awkward to adjust high/low/off setting. Twist it a little to much one way it'll stop or too much the other way it'll jump into high vibrate. (Would be perfect if it had a sliding switch instead.) Very happy overall though!! :)
Very good my autistic son loves it great buy
Good toy,but didn't realise it was ribbed,chafes skin when rubbed on face,otherwise excellent .
Kathleen H.
Verified Buyer.
25/12/14
Our granddaughter loves her gifts
Calmed my boy when starting an anxiety attack on Christmas day love it
Mary jo H.
Verified Buyer.
21/12/14
V good
This is great my child loves it
Reginald C.
Verified Buyer.
14/12/14
The vibrating snake is very well made and I think my grandson will love it
Michelle W.
Verified Buyer.
10/12/14
My granddaughter loves it....calming
Michael M.
Verified Buyer.
29/11/14
all fine
Not sure how children can play with it, but they do like it vibrating around the body.
I think it's a great item and my son loves it I would recommend to others.