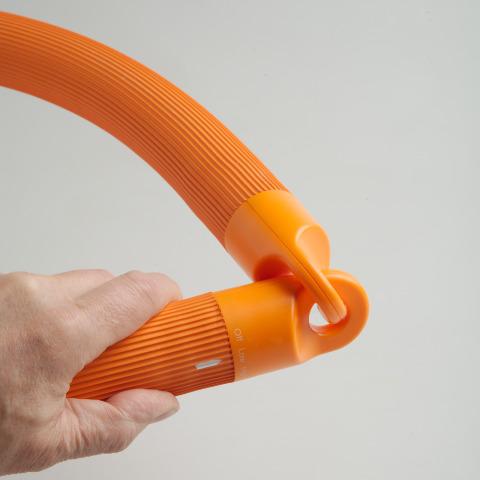 Vibrating Snake
OUR REF #: 3STVS
Very popular battery-operated flexible vibrating snake. Allows the user to move the vibration behind their back. The gentle vibrations are quite soothing. ~ Flexible and easily wrapped around an arm or leg. ~ 2 speeds for you to choose. ~ Also available in smooth blue (3STVSB) Add a Vibrating Snake Cover to give another tactile dimension to your therapy session. Vibrating Snake Cover (3SKCVG). NOTE: Due to recent changes in the size of Duracell batteries, please do not use them in your Vibrating Snake. Other brands are compatible.
Additional Information
Dimensions: L: 49" x W: 1.5" x H: 1.5"
Power: Requires 2 x C Batteries, not included
Related Products
56 Reviews
A bit stiff to turn on and off but apart from that its a good quality item and was worth every penny to help my LB concentrate at Home and School
Very good toy at a decent price
The vibrating snake is good for many areas. My daughter prefers to put her feet on it for proprioceptive feedback. It is a good tool in many ways as it can be used round the neck or just placed anywhere it is needed. We did find that just 10 minutes of this before any event where my daughter needed to be still enabled her to be much calmer for approx 45 mins to 1 hour. I do think it is rather large and heavy and it would be useful if there was a travel version smaller and lighter.
James i. M.
Verified Buyer.
23/05/16
It's a really great product my client really loves it Thank you
Great product and helps to calm my son down. Shame it doesn't come with a cover.
I wish there was an ON/OFF switch on the outside of the snake so you didn't have to take the batteries out to turn it off.
Extremely pleased with the quality of the vibrating snake! It is very durable and the adjustable level of vibration is perfect for my son when he is seeking different levels of sensory stimulation. We are so pleased I have already purchased a second vibrating snake for my son to keep at school!
A timer in it to turn off after 30 minutes would be nice.
St. anne's school E.
Verified Buyer.
09/10/15
The children in my unit love to snake but a child bit it and there is a hole. I wish the covering was more durable.
Excellant servive quick delivery
Very good would recommend it xxxx
We have purchased 20 of these for a local children's hospital and they are in such demand that we are ordering more.
Great item that I'd recommend