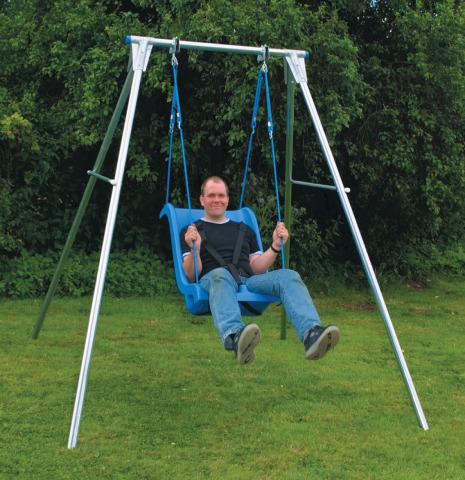 Single Swing (Frame only)
OUR REF #: 8TSFS
Very high quality swing frame. Made from galvanized steel, which does not rust. Our Swing Frames are made from thick (2") tubes and so are very strong, but also light and pleasant to touch, making assembly very easy. Our Swing frames are very stable and strong, the treble swing frame can swing (400kg) spread across its length. ?The Single Swing Frame comes with twisted stakes to pin the frame to the ground. Measuring 226cm wide our Single Swing Frame can swing?all our large swings such as the Nest Swing. The Single Swing Frame is the only frame recommended for our Wheelchair Platform swing or for our Adult Swing seat. Overall Dimensions - 226cm?wide, 244cm deep, and 228cm tall, our swing frames are among the tallest available. Swing Seats are sold separately.
217,50 €
181,25 € (exc. VAT)
VAT relief available on this product.
Additional Information
Dimensions: H: 228 x W: 226 x D: 245cm
Power: 150kg max
49 Reviews
Straight forward to put together (my husband did it on his own - although it would have been easier with a second pair of hands). Sturdy, works well and versatile (suitable for many swings and wheelchair even). Delighted with purchase. Very helpful staff at TFH
The frame is very big, it takes up a lot of space in the garden but I love that it can hold up to 14st as it means my son has a good few years in it.
Pauline B.
Verified Buyer.
31/12/13
great to finally find a swing that will fit a large male adult who is 6ft 4" tall, loves swinging and tries to squash onto the little swings in playgrounds!! - thank you!
Caroline W.
Verified Buyer.
10/11/13
Just what we were looking for. Really simple to order online and customer services over the telephone were really friendly and able to answer our query straight away. Only reason not given five stars is that as the product is so large/heavy it would have been helpful to know what day it was being delivered as our neighbour kindly took the delivery in whilst we were out and it was so long it filled her hallway!