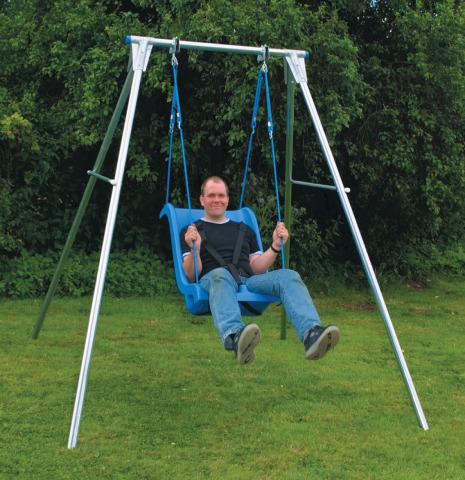 Single Swing (Frame only)
OUR REF #: 8TSFS
Very high quality swing frame. Made from galvanized steel, which does not rust. Our Swing Frames are made from thick (2") tubes and so are very strong, but also light and pleasant to touch, making assembly very easy. Our Swing frames are very stable and strong, the treble swing frame can swing (400kg) spread across its length. ?The Single Swing Frame comes with twisted stakes to pin the frame to the ground. Measuring 226cm wide our Single Swing Frame can swing?all our large swings such as the Nest Swing. The Single Swing Frame is the only frame recommended for our Wheelchair Platform swing or for our Adult Swing seat. Overall Dimensions - 226cm?wide, 244cm deep, and 228cm tall, our swing frames are among the tallest available. Swing Seats are sold separately.
217,50 €
181,25 € (exc. VAT)
VAT relief available on this product.
Additional Information
Dimensions: H: 228 x W: 226 x D: 245cm
Power: 150kg max
49 Reviews
Very sturdy frame. Got someone to assemble. Bought the xwide skeleton seat for it. Kids and adults love it. Prompt delivery and good customer services. Lots of handy advice over the phone. Thank you.
I'm extremely happy with my purchase & communication & delivery !!! fantastic service shall defiantly be purchasing again thank you :)
Suthathip H.
Verified Buyer.
15/04/15
Excellent swing both lots of joy and laughter in our daughter life❤️ Great communication and very fast deliver. Highly recommended!!
Brilliant for what we needed .
Caroline A.
Verified Buyer.
31/08/14
Large frame, hopefully will last my son for years! Easy to assemble too.
The swing frame is easy to put together and very solid when up. It is a lot bigger than I thought and takes up a huge place in the garden but worth every penny
The swing frame arrived quickly,it is a very sturdy frame easy to put up,I'm very happy with the product.
Russell C.
Verified Buyer.
24/07/14
The swing we bought for our disabled daughter was a very quick turn around from when we ordered to when it arrived - less than 3 days. It was easy to put up - Our daughter has great fun on it and enjoys it very much. I would highly recommend the product.
Excellent value for money very sturdy our daughter loves it
I called for advice , were very helpful. Placed the order online , recieved my order within 24 hrs . Brilliant !! X
Theresse K.
Verified Buyer.
24/06/14
Brilliant service and brilliant product!!
Kathryn J.
Verified Buyer.
04/06/14
This swing frame is brilliant. Bought along with the swing seat. It is very sturdy but does take a while for 2 people to put together.As it will support weight up to 90kg I will only need to upgrade the seat as my grandson grows.
Very pleased and so is my daughter....very sturdy albeit bigger than most but it is going to be as your child gets bigger and still loves swinging. Highly recommended and great value!!!
Frame very well built, seat not quite as good, as with all flat pack items, best to look at the picture, not spend ages trying to understand the intructions, especially relating to the seat. Would be easier if harness was already added to seat - would make no difference to packaging.