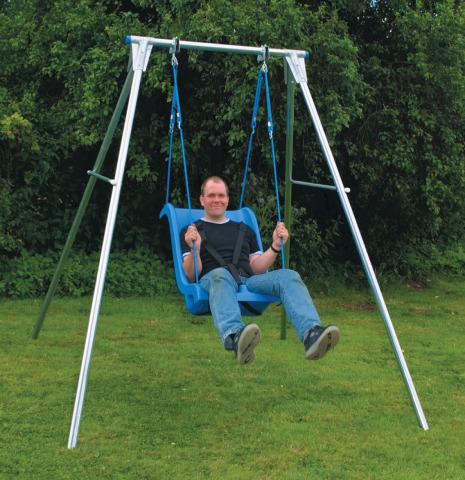 Single Swing (Frame only)
OUR REF #: 8TSFS
Very high quality swing frame. Made from galvanized steel, which does not rust. Our Swing Frames are made from thick (2") tubes and so are very strong, but also light and pleasant to touch, making assembly very easy. Our Swing frames are very stable and strong, the treble swing frame can swing (400kg) spread across its length. ?The Single Swing Frame comes with twisted stakes to pin the frame to the ground. Measuring 226cm wide our Single Swing Frame can swing?all our large swings such as the Nest Swing. The Single Swing Frame is the only frame recommended for our Wheelchair Platform swing or for our Adult Swing seat. Overall Dimensions - 226cm?wide, 244cm deep, and 228cm tall, our swing frames are among the tallest available. Swing Seats are sold separately.
217,50 €
181,25 € (exc. VAT)
VAT relief available on this product.
Additional Information
Dimensions: H: 228 x W: 226 x D: 245cm
Power: 150kg max
49 Reviews
It's of fantastic quality very sturdy, we brought alongside the nest swing, i have one very happy son, worth every penny. The staff also very helpful,friendly and informative.
Really sturdy and safe. Fits nicely into a fairly small garden and doesn't look out of place.
Michelle D.
Verified Buyer.
18/09/17
It's very sturdy and works great. My son loves it.
Brilliant we bought the swing in spring and our granddaughter has used it every day becoming more and more confident each day she now takes a run at it and leaps on which get it swinging straight away.She has ASD and will not get onto a sit up style swing.
Brandon E.
Verified Buyer.
07/09/17
large and robust, easily copes with my adult child's aggressive swinging. 100% happy with this purchase.
The swing has been perfect for my disabled son. It arrived quick and was good value for money. Can't fault it to be honest!
Brilliant item, easy to assemble
My autistic daughter loves the swing. She is 17 so I had to buy a strong sturdy one. This frame is solid. It was easy to put together. But the swing seat that I brought lets it down, it's come apart twice and I had to get replacement parts before I even put it together! I doubt the seat will last but the frame will last years
Great swing having lots of fun!! Great service.
Good sturdy swing frame. Easily built. Very happy with it.
Just what we were looking for thank you.
Stephen W.
Verified Buyer.
04/07/15
Ordered Thursday, delivered on Friday and up on Saturday. I can't name one negative about the swing or the service. My son adores standing and swinging up high and it's just perfect for him. Will be telling all my 'special' friends about the site - customer services were awesome to deal with.
This frame was worth the buy it was great to get everything together. Not hard to put together either.