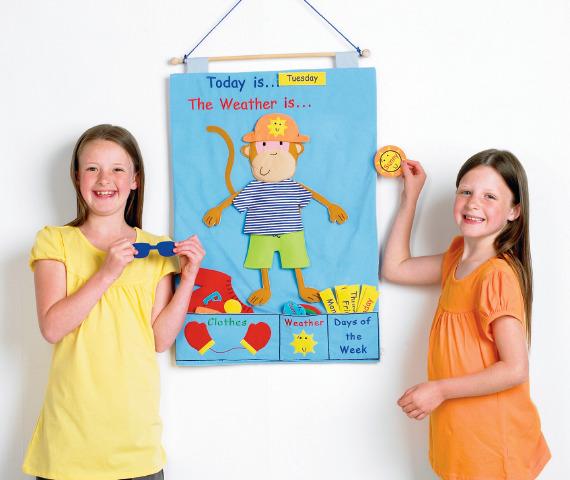 Felt Play, Monkey Weather Chart
OUR REF #: 4FZMK
Dress the friendly monkey appropriately using his 36 piece wardrobe. Add the day of the week and the weather motif at the top of the chart.

Introduce the names for the days of the week, clothes and accessories related to weather. Order and discuss the days of the week while introducing time and event prediction. Imagine how your child feels when they ask, "When am I sleeping over at grandma's house?" and you respond, "Saturday." That's all well and good, but when is Saturday? Is it now? How long will it take to get here? Monkey can help you, help them.

As you are teaching your child about the days of the week, it's also a good idea to introduce the concept of today, yesterday, and tomorrow.

Uses hand/eye coordination and encourages gross motor skills.
Additional Information
Dimensions: 29" x 19" x 1"
2 Reviews
It's very nice and interesting for my young class. However, some of the items did not have velcro on them and that was really annoying for me
Excellent help for ESL -kids teachers. Children love it. Thanks